This is the new version of the
PCFlank
Leaktest.
Since there's no "allow/permit" rule for the browser (in our case Internet Explorer), we can't consider that it bypasses firewalls.
In fact this leaktest just demonstrates a classical method of spying via browsers by using legitimate components and objects.
In our case, the technique used by PCFlank is called OLE automation application control.
This kind of methods was and is used also in deep-pentesting by many societies specialised in security auditing.
# Time sent Dur. Process Request IRP Flags FsContext Path Status More info
1 16:33:31.046 31 PCFlankLeaktest.exe IRP_MJ_READ 00000043 E14890D0 C:[-=Not In Cache=-] STATUS_SUCCESS Offset 00000000-00024000 ToRead 4000 Read 4000
2 16:34:02.671 0 PCFlankLeaktest.exe FASTIO_QUERY_OPEN 00000000 C:[-=Error 0xc000000d Getting Name=-] STATUS_OBJECT_NAME_NOT_FOUND FILE_OPEN CreOpts: 0x00200000 Access: 0x00000080 Share: 0x00000007 Attrib: 0 Result: FILE_SUPERSEDED AllocationSize: FF55C8EC-805B3A5D EndOfFile: FF55C878-FF55C91C Attrib: 0x00F80016
3 16:34:02.671 0 PCFlankLeaktest.exe FASTIO_QUERY_OPEN 00000000 C:[-=Error 0xc000000d Getting Name=-] STATUS_SUCCESS FILE_OPEN CreOpts: 0x00200000 Access: 0x00000080 Share: 0x00000007 Attrib: 0 Result: 00000038 AllocationSize: 00000000-0007A000 EndOfFile: 00000000-00079C00 Attrib: 0x00000020
4 16:34:02.671 0 PCFlankLeaktest.exe IRP_MJ_CREATE 00000884 00000000 C:WINDOWSsystem32CLBCATQ.DLL STATUS_SUCCESS FILE_OPEN CreOpts: 0x00000060 Access: 0x00100020 Share: 0x00000005 Attrib: 0 Result: FILE_OPENED
5 16:34:02.671 0 PCFlankLeaktest.exe IRP_MJ_QUERY_INFORMATION 00001014 E19350D0 C:WINDOWSsystem32CLBCATQ.DLL STATUS_SUCCESS FileNameInformation
6 16:34:02.671 0 PCFlankLeaktest.exe IRP_MJ_CLEANUP 00000404 E19350D0 C:WINDOWSsystem32CLBCATQ.DLL STATUS_SUCCESS
7 16:34:02.671 0 PCFlankLeaktest.exe IRP_MJ_CLOSE 00000404 E19350D0 C:WINDOWSsystem32CLBCATQ.DLL STATUS_SUCCESS
8 16:34:02.671 0 PCFlankLeaktest.exe FASTIO_QUERY_OPEN 00000000 C:[-=Error 0xc000000d Getting Name=-] STATUS_OBJECT_NAME_NOT_FOUND FILE_OPEN CreOpts: 0x00200000 Access: 0x00000080 Share: 0x00000007 Attrib: 0 Result: FILE_SUPERSEDED AllocationSize: FF55C8EC-805B3A5D EndOfFile: FF55C878-FF55C91C Attrib: 0x00F80014
9 16:34:02.671 0 PCFlankLeaktest.exe FASTIO_QUERY_OPEN 00000000 C:[-=Error 0xc000000d Getting Name=-] STATUS_SUCCESS FILE_OPEN CreOpts: 0x00200000 Access: 0x00000080 Share: 0x00000007 Attrib: 0 Result: 00000038 AllocationSize: 00000000-000D0000 EndOfFile: 00000000-000D0000 Attrib: 0x00000020
10 16:34:02.671 0 PCFlankLeaktest.exe IRP_MJ_CREATE 00000884 00000000 C:WINDOWSsystem32COMRes.dll STATUS_SUCCESS FILE_OPEN CreOpts: 0x00000060 Access: 0x00100020 Share: 0x00000005 Attrib: 0 Result: FILE_OPENED
11 16:34:02.671 0 PCFlankLeaktest.exe IRP_MJ_QUERY_INFORMATION 00001014 E1935D90 C:WINDOWSsystem32COMRes.dll STATUS_SUCCESS FileNameInformation
12 16:34:02.671 0 PCFlankLeaktest.exe IRP_MJ_CLEANUP 00000404 E1935D90 C:WINDOWSsystem32COMRes.dll STATUS_SUCCESS
13 16:34:02.671 0 PCFlankLeaktest.exe IRP_MJ_CLOSE 00000404 E1935D90 C:WINDOWSsystem32COMRes.dll STATUS_SUCCESS
14 16:34:02.671 0 PCFlankLeaktest.exe FASTIO_QUERY_OPEN 00000000 C:[-=Error 0xc000000d Getting Name=-] STATUS_SUCCESS FILE_OPEN CreOpts: 0x00200000 Access: 0x00000080 Share: 0x00000007 Attrib: 0 Result: 00000038 AllocationSize: 00000000-00000000 EndOfFile: 00000000-00000000 Attrib: 0x00000010
15 16:34:02.671 0 PCFlankLeaktest.exe IRP_MJ_CREATE 00000884 00000000 C:WINDOWSRegistrationR000000000007.clb STATUS_SUCCESS FILE_OPEN CreOpts: 0x00000060 Access: 0x00120089 Share: 0x00000001 Attrib: 0 Result: FILE_OPENED
16 16:34:02.671 0 PCFlankLeaktest.exe FASTIO_QUERY_STANDARD_INFO E19335F8 C:WINDOWSRegistrationR000000000007.clb STATUS_SUCCESS AllocationSize: 00000000-00006000 EndOfFile: 00000000-00005928 NumberOfLinks: 1 DeletePending: 0 Directory: 0
17 16:34:02.671 0 PCFlankLeaktest.exe IRP_MJ_READ 00000900 E19335F8 C:WINDOWSRegistrationR000000000007.clb STATUS_SUCCESS Offset 00000000-00000000 ToRead 5928 Read 5928
18 16:34:02.671 0 PCFlankLeaktest.exe IRP_MJ_CLEANUP 00000404 E19335F8 C:WINDOWSRegistrationR000000000007.clb STATUS_SUCCESS
19 16:34:02.687 0 PCFlankLeaktest.exe FASTIO_QUERY_OPEN 00000000 C:[-=Error 0xc000000d Getting Name=-] STATUS_SUCCESS FILE_OPEN CreOpts: 0x00200000 Access: 0x00000080 Share: 0x00000007 Attrib: 0 Result: 00000038 AllocationSize: 00000000-0007C000 EndOfFile: 00000000-0007BA00 Attrib: 0x00000020
20 16:34:02.687 0 PCFlankLeaktest.exe IRP_MJ_CREATE 00000884 00000000 C:WINDOWSsystem32winlogon.exe STATUS_SUCCESS FILE_OPEN CreOpts: 0x00000060 Access: 0x00100020 Share: 0x00000005 Attrib: 0 Result: FILE_OPENED
21 16:34:02.687 0 PCFlankLeaktest.exe FASTIO_QUERY_STANDARD_INFO E1907A50 C:WINDOWSsystem32winlogon.exe STATUS_SUCCESS AllocationSize: 00000000-0007C000 EndOfFile: 00000000-0007BA00 NumberOfLinks: 1 DeletePending: 0 Directory: 0
22 16:34:02.687 0 PCFlankLeaktest.exe IRP_MJ_CLEANUP 00000404 E1907A50 C:WINDOWSsystem32winlogon.exe STATUS_SUCCESS
23 16:34:02.687 0 PCFlankLeaktest.exe IRP_MJ_CLOSE 00000404 E1907A50 C:WINDOWSsystem32winlogon.exe STATUS_SUCCESS
24 16:34:02.687 0 PCFlankLeaktest.exe IRP_MJ_CREATE 00000884 00000000 C:Documents and SettingsAdministrateur.POSTE2Mes documentsMes vidéosPCFlankLeaktest.exe STATUS_SUCCESS FILE_OPEN CreOpts: 0x00000020 Access: 0x00120089 Share: 0x00000007 Attrib: 0 Result: FILE_OPENED
25 16:34:02.687 0 PCFlankLeaktest.exe IRP_MJ_READ 00000900 E14890D0 C:Documents and SettingsAdministrateur.POSTE2Mes documentsMes vidéosPCFlankLeaktest.exe STATUS_SUCCESS Offset 00000000-00000000 ToRead 200 Read 200
26 16:34:02.687 0 PCFlankLeaktest.exe FASTIO_READ E14890D0 C:Documents and SettingsAdministrateur.POSTE2Mes documentsMes vidéosPCFlankLeaktest.exe STATUS_SUCCESS Offset 00000000-00000200 ToRead 200 Read 200
27 16:34:02.687 0 PCFlankLeaktest.exe FASTIO_READ E14890D0 C:Documents and SettingsAdministrateur.POSTE2Mes documentsMes vidéosPCFlankLeaktest.exe STATUS_SUCCESS Offset 00000000-00000400 ToRead 200 Read 200
28 16:34:02.687 0 PCFlankLeaktest.exe FASTIO_READ E14890D0 C:Documents and SettingsAdministrateur.POSTE2Mes documentsMes vidéosPCFlankLeaktest.exe STATUS_SUCCESS Offset 00000000-00000600 ToRead 200 Read 200
29 16:34:02.687 0 PCFlankLeaktest.exe FASTIO_READ E14890D0 C:Documents and SettingsAdministrateur.POSTE2Mes documentsMes vidéosPCFlankLeaktest.exe STATUS_SUCCESS Offset 00000000-00000800 ToRead 200 Read 200
30 16:34:02.687 0 PCFlankLeaktest.exe FASTIO_READ E14890D0 C:Documents and SettingsAdministrateur.POSTE2Mes documentsMes vidéosPCFlankLeaktest.exe STATUS_SUCCESS Offset 00000000-00000A00 ToRead 200 Read 200
31 16:34:02.687 0 PCFlankLeaktest.exe FASTIO_READ E14890D0 C:Documents and SettingsAdministrateur.POSTE2Mes documentsMes vidéosPCFlankLeaktest.exe STATUS_SUCCESS Offset 00000000-00000C00 ToRead 200 Read 200
32 16:34:02.687 0 PCFlankLeaktest.exe FASTIO_READ E14890D0 C:Documents and SettingsAdministrateur.POSTE2Mes documentsMes vidéosPCFlankLeaktest.exe STATUS_SUCCESS Offset 00000000-00000E00 ToRead 200 Read 200
33 16:34:02.687 0 PCFlankLeaktest.exe FASTIO_READ E14890D0 C:Documents and SettingsAdministrateur.POSTE2Mes documentsMes vidéosPCFlankLeaktest.exe STATUS_SUCCESS Offset 00000000-00001000 ToRead 200 Read 200
34 16:34:02.687 0 PCFlankLeaktest.exe FASTIO_READ E14890D0 C:Documents and SettingsAdministrateur.POSTE2Mes documentsMes vidéosPCFlankLeaktest.exe
And the number of loaded dll is not the same at the beginning (15) of the test and at the end (39):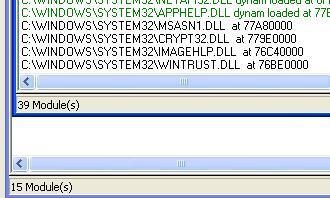 NEXT