Rootkit technologies detection and prevention:
- with Rootkit Demo1.2: this russian demo uses is designed to hide its presence and to make speakers beeps.
RKDemo does not use particular hidding method, but take advantage of Windows functions (returs an "error control " to the system).
More over, this demo uses ZwLoadDriver instead of the usual NtLoadDriver, which is a well known method to bypass HIPS
1
.
Here's what it does:
Time Message Process Thread Delta Time Relative Time
14:44:27,328127 Found module 0x400000 (C:Documents and SettingsKareldjag.POSTE2Mes documentsrk_demo_v12RKSTART.EXE). Version: N/A RKSTTime Message Process Thread Delta Time Relative Time
14:44:25,453000 Creating process 0x878 at 0x400000 (2168) 0x87C 0,000000 0,000000
14:44:27,328127 Found module 0x400000 (C:Documents and SettingsKareldjag.POSTE2Mes documentsrk_demo_v12RKSTART.EXE). Version: N/A RKSTART (2168) 0x87C 1,875127 1,875127
14:44:27,336345 Found module 0x10000000 (C:WINDOWSsystem32sockspy.dll). Version: N/A RKSTART (2168) 0x87C 0,008217 1,883345
14:44:27,350415 Found module 0x20000000 (C:WINDOWSsystem32odbcint.dll). Version: 3.525.1117.0 RKSTART (2168) 0x87C 0,014070 1,897415
14:44:27,359150 Found module 0x58B50000 (C:WINDOWSsystem32comctl32.dll). Version: 5.82.2900.2180 RKSTART (2168) 0x87C 0,008735 1,906151
14:44:27,367633 Found module 0x621F0000 (C:WINDOWSsystem32MAPI32.DLL). Version: 1.0.2536.0 RKSTART (2168) 0x87C 0,008482 1,914633
14:44:27,367678 Found module 0x65300000 (C:PROGRA~1TPLUSDBGSHARE.DLL). Version: 3.0.0.1000 RKSTART (2168) 0x87C 0,000045 1,914678
14:44:27,367709 Found module 0x65500000 (C:PROGRA~1TPLUSSQLLNK32.DLL). Version: 5.1.0.1 RKSTART (2168) 0x87C 0,000031 1,914710
14:44:27,367900 Found module 0x6FEE0000 (C:WINDOWSsystem32NETAPI32.dll). Version: 5.1.2600.2180 RKSTART (2168) 0x87C 0,000190 1,914900
14:44:27,367951 Found module 0x719E0000 (C:WINDOWSsystem32WS2HELP.dll). Version: 5.1.2600.2180 RKSTART (2168) 0x87C 0,000051 1,914951
14:44:27,367979 Found module 0x719F0000 (C:WINDOWSsystem32WS2_32.dll). Version: 5.1.2600.2180 RKSTART (2168) 0x87C 0,000027 1,914979
14:44:27,368010 Found module 0x71A60000 (C:WINDOWSsystem32MPR.DLL). Version: 5.1.2600.2180 RKSTART (2168) 0x87C 0,000031 1,915010
14:44:27,368038 Found module 0x72F50000 (C:WINDOWSsystem32WINSPOOL.DRV). Version: 5.1.2600.2180 RKSTART (2168) 0x87C 0,000028 1,915038
14:44:27,368082 Found module 0x74730000 (C:WINDOWSsystem32ODBC32.DLL). Version: 3.525.1117.0 RKSTART (2168) 0x87C 0,000043 1,915082
14:44:27,383392 Found module 0x76340000 (C:WINDOWSsystem32comdlg32.dll). Version: 6.0.2900.2180 RKSTART (2168) 0x87C 0,015310 1,930392
14:44:27,386628 Found module 0x76AE0000 (C:WINDOWSsystem32WINMM.dll). Version: 5.1.2600.2180 RKSTART (2168) 0x87C 0,003236 1,933628
14:44:27,386680 Found module 0x76E30000 (C:WINDOWSsystem32rtutils.dll). Version: 5.1.2600.2180 RKSTART (2168) 0x87C 0,000051 1,933680
14:44:27,386709 Found module 0x76E40000 (C:WINDOWSsystem32rasman.dll). Version: 5.1.2600.2180 RKSTART (2168) 0x87C 0,000029 1,933709
14:44:27,386738 Found module 0x76E60000 (C:WINDOWSsystem32TAPI32.DLL). Version: 5.1.2600.2180 RKSTART (2168) 0x87C 0,000029 1,933738
14:44:27,386773 Found module 0x76E90000 (C:WINDOWSsystem32RASAPI32.DLL). Version: 5.1.2600.2180 RKSTART (2168) 0x87C 0,000034 1,933773
14:44:27,386810 Found module 0x770E0000 (C:WINDOWSsystem32OLEAUT32.dll). Version: * RKSTART (2168) 0x87C 0,000037 1,933810
14:44:27,396715 Found module 0x77390000 (C:WINDOWSWinSxSx86_Microsoft.Windows.Common-Controls_6595b64144ccf1df_6.0.2600.2180_x-ww_a84f1ff9comctl32.dll). Version: * RKSTART (2168) 0x87C 0,009904 1,943715
14:44:27,404035 Found module 0x774A0000 (C:WINDOWSsystem32ole32.dll). Version: * RKSTART (2168) 0x87C 0,007320 1,951035
14:44:27,414526 Found module 0x779E0000 (C:WINDOWSsystem32CRYPT32.dll). Version: * RKSTART (2168) 0x87C 0,010491 1,961526
14:44:27,414597 Found module 0x77A80000 (C:WINDOWSsystem32MSASN1.dll). Version: * RKSTART (2168) 0x87C 0,000071 1,961597
14:44:27,430317 Found module 0x77AA0000 (C:WINDOWSsystem32WININET.DLL). Version: * RKSTART (2168) 0x87C 0,015720 1,977317
14:44:27,430395 Found module 0x77BE0000 (C:WINDOWSsystem32msvcrt.dll). Version: * RKSTART (2168) 0x87C 0,000078 1,977395
14:44:27,446474 Found module 0x77D10000 (C:WINDOWSsystem32USER32.dll). Version: * RKSTART (2168) 0x87C 0,016079 1,993474
14:44:27,453386 Found module 0x77DA0000 (C:WINDOWSsystem32ADVAPI32.dll). Version: * RKSTART (2168) 0x87C 0,006911 2,000386
14:44:27,453463 Found module 0x77E50000 (C:WINDOWSsystem32RPCRT4.dll). Version: * RKSTART (2168) 0x87C 0,000077 2,000463
14:44:27,453522 Found module 0x77EF0000 (C:WINDOWSsystem32GDI32.dll). Version: * RKSTART (2168) 0x87C 0,000058 2,000522
14:44:27,468206 Found module 0x77F40000 (C:WINDOWSsystem32SHLWAPI.dll). Version: * RKSTART (2168) 0x87C 0,014684 2,015206
14:44:27,487100 Found module 0x7C800000 (C:WINDOWSsystem32kernel32.dll). Version: * RKSTART (2168) 0x87C 0,018894 2,034100
14:44:27,495832 Found module 0x7C910000 (C:WINDOWSsystem32ntdll.dll). Version: * RKSTART (2168) 0x87C 0,008732 2,042832
14:44:27,504538 Found module 0x7C9D0000 (C:WINDOWSsystem32SHELL32.DLL). Version: * RKSTART (2168) 0x87C 0,008705 2,051538
14:44:27,927518 Rootkit started RKSTART (2168) 0x87C 0,422979 2,474518
14:44:27,981223 Searching handles... RKSTART (2168) 0x87C 0,053705 2,528223
14:44:27,985131 Process finded RKSTART (2168) 0x87C 0,003907 2,532131
14:44:27,989034 Thread finded RKSTART (2168) 0x87C 0,003903 2,536034
14:44:27,992940 Handle closed! RKSTART (2168) 0x87C 0,003906 2,539940
14:44:27,996845 Handle closed! RKSTART (2168) 0x87C 0,003904 2,543845
14:44:28,000752 Handle closed! RKSTART (2168) 0x87C 0,003908 2,547753
14:44:28,004658 Handle closed! RKSTART (2168) 0x87C 0,003906 2,551658
14:44:28,008560 Handle closed! RKSTART (2168) 0x87C 0,003902 2,555561
14:44:28,012468 Handle closed! RKSTART (2168) 0x87C 0,003907 2,559468
14:44:28,016391 Handle closed! RKSTART (2168) 0x87C 0,003923 2,563391
14:44:28,031000 An exception occurred at address 0x7C91EB74. The type of exception is ''. RKSTART (2168) 0x87C 0,014608 2,578000
14:44:37,528021 Loading driver >> RKSTART (2168) 0x87C 9,497021 12,075021
14:44:37,745123 ZwLoadDriver returned: 0x00000000 RKSTART (2168) 0x87C 0,217102 12,292123
14:44:37,765000 An exception occurred at address 0x77D2EE07. The type of exception is 'EXCEPTION_ACCESS_VIOLATION'. (4) 0x87C 0,000000 12,312000ART (2168) 0x87C 1,875127 1,875127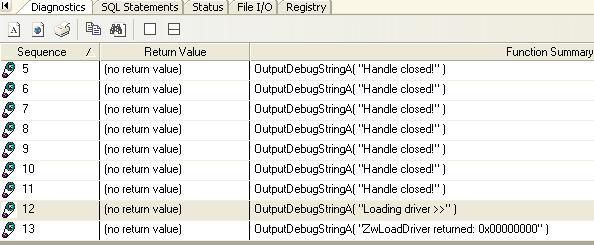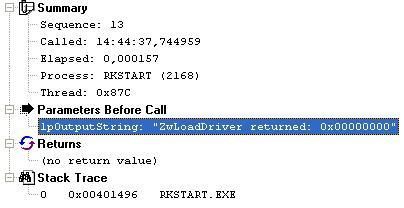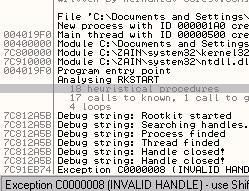 - hidding data in NTFS
a. basic method: here we just use a classical and well known
method
to hide data:
calc.exe is used for svchost.exe and ngSniff.exe:

Here's the result with NTFS tools: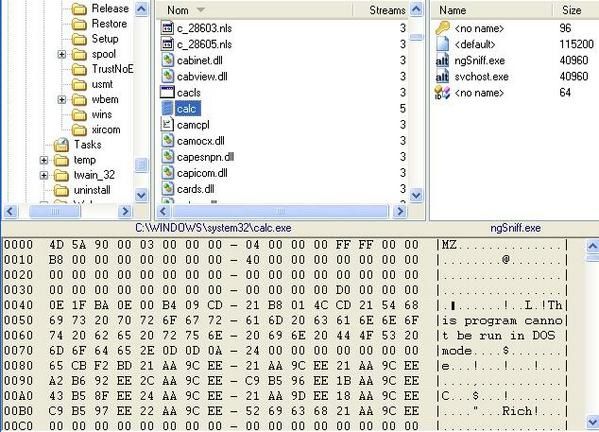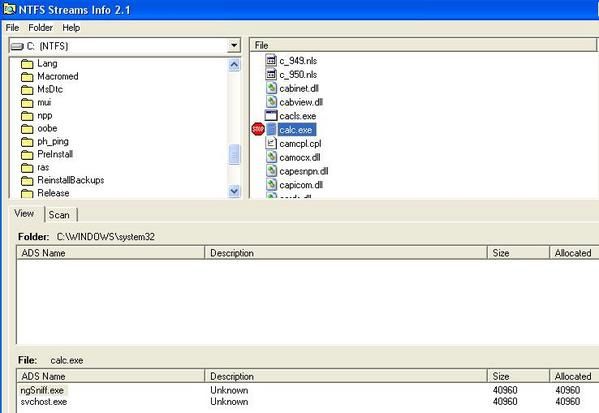 b. MySync
The hidden processes displayed by DarkSpy, Gmer, F-Secure Blacklight and Rootkit Unhooker :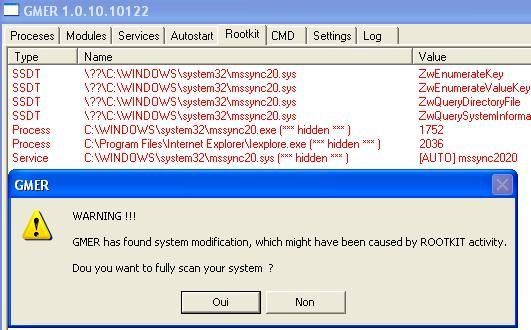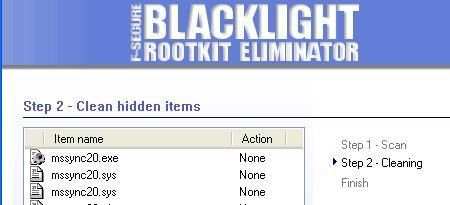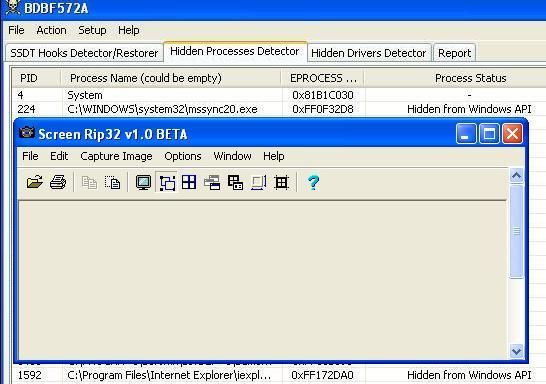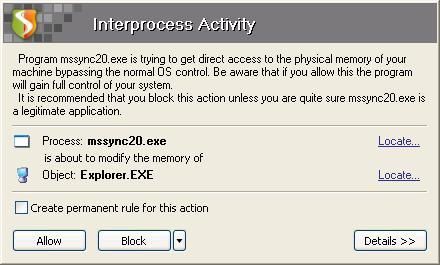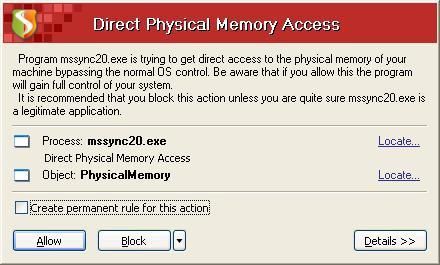 c) Backdoor Flux
d) Pe386
e) Rs
d) Oddysee